Last night's Emmy Awards were pretty low-key and predictable. In fact, they were so predictable that I didn't even anticipate just how predictable they would be. In my Emmy predictions, I only got about 8/18 correct. I went for second-tier predictable, see? The super-hyped upstarts, like Orange Is The New Black or Fargo. But The Emmys, well, they're still stuck on the over-hyped staples, like Modern Family. Even when they were right (because I'm not about to say that Breaking Bad is wrong – ever) they weren't surprising. Basically, the Emmys was a snooze-fest, with only a few bright moments to keep me from flipping back to Bachelor In Paradise. Here are some of the best and worst moments of the night:
Best – Breaking Bad wins it all
The final season of what I believe is the best show in the history of television (yeah, I said it, sorry The Wire) took home all the major awards – Outstanding Drama Series, a writing award for "Ozymandias," and acting awards for Bryan Cranston, Anna Gunn and Aaron Paul. Totally deserved.
Worst – Modern Family and Ty Burrell beat….everything funny
God, can we please move on from Modern Family? No one actually thinks that's the funniest show on television, right? If we're going to continuously ignore Parks and Recreation, can we at least give it to Veep or Orange Is The New Black? Hell, I would have settled for Girls. This is like giving an award to "Dad Jokes 101." Lame.
Best – Billy Crystal's touching tribute to Robin Williams
I always have a bit of an issue singling out one death in the "In Memoriam" segment because it feels sort of like, "Everyone who died mattered, but this guy mattered a little more." That being said, no one can deny the immense impact Robin Williams made on comedy and popular culture over the past 30-plus years and his contribution to the medium of television goes above and beyond iconic. Billy Crystal's heartfelt words were classy and touching:
Well, as genius as he was onstage, he was the greatest friend you could ever imagine: supportive, protective, loving. It's very hard to talk about him in the past because he was so present in all of our lives. For almost 40 years, he was the brightest star in the comedy galaxy. But while some of the brightest of our celestial bodies are actually extinct now, their energy long since cooled, but miraculously, because they float in the heavens so far away from us now, their beautiful light will continue to shine on us forever. And the glow will be so bright, it'll warm your heart, it'll make your eyes glisten, and it'll make you think to yourselves: Robin Williams, what a concept.
Worst: Spinning Sofia Vergara around on a pedestal like a new car
I'm not going to get totally up in arms over this, since maybe it was a bit tongue-in-cheek on Sofia Vergara's part – hey, if you're the highest earning actress on television, maybe you can spin around in a circle and poke fun at your own objectification. But as skits go, it wasn't really all that funny and only served to further the infuriating opinion that women who are offended by sexism "cannot take a joke."
Best: Cary Fukanaga's win (and his awesome braids)
Not only did Cary Fukanaga take home an incredibly well-deserved award for Oustanding Directing in a Drama Series (did you see that six-minute tracking shot?) but he accepted his award while sporting two glorious man-braids. Could I love this guy any more if I tried? Probably not.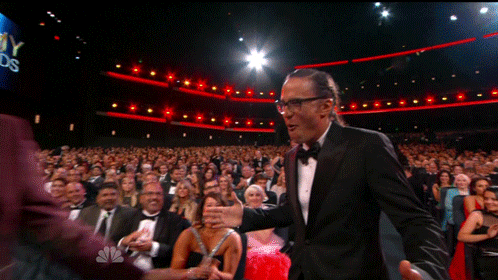 Worst: Sherlock wins three Emmys
I know this is like, committing The Worst Internet Crime Ever, but I was not thrilled with the wins for Sherlock – a writing award for Steven Moffat and acting awards for Benedict Cumberbatch and Martin Freeman. Sherlock is great – I enjoy it! But come on, man. Sherlock: His Last Vow was pretty terrible, you know? These guys deserved an award for series one or two – but that nonsense winning over Fargo or The Normal Heart is just a joke.
Best: Elaine Benes and Tim Whatley are reunited
And it feels so good! Julia Louis-Dreyfus and Bryan Cranston shared a passionate and hilarious kiss before JLD accepted her Emmy on stage. If you don't remember, Cranston played the "Dentist to the Stars" on Seinfeld.
Like I said, the rest of the Emmys were pretty snore-worthy. What did you think of the show? What were your favorite Emmy moments? Do you agree with the winners?